Granite Stone Crushing Plant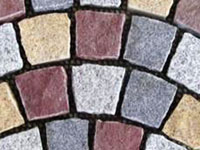 Granite consists mainly of quartz, mica, and feldspar. Granite is nearly always massive (lacking any internal structures), hard and tough, and therefore it has gained widespread use throughout human history, and more recently as a construction stone.

info@yfmac.com

+86-371-64628852
processing equipment
According to the characteristics of granite, in the granite processing plant, we usually take Jaw Crusher and PFW Impact Crusher as the primary crusher, they can raise the effiect and save the powder. Cone Crusher is the best choice as the second crusher. The diverse granite process line also includes granite screeners, belt conveyors and vibrating feeders.
GET PRICE AND SUPPORT
Fill in this form or click the service online, all questions will be answered.