Cone Crusher is mainly used for metal mining processing and construction of gravel processing, because its crushing capacity is relatively strong, and high production efficiency. Hydraulic cone crusher gravel production line used in the river pebbles, basalt, iron ore and other materials in the crushing of hard materials, production efficiency is affirmed by many customers.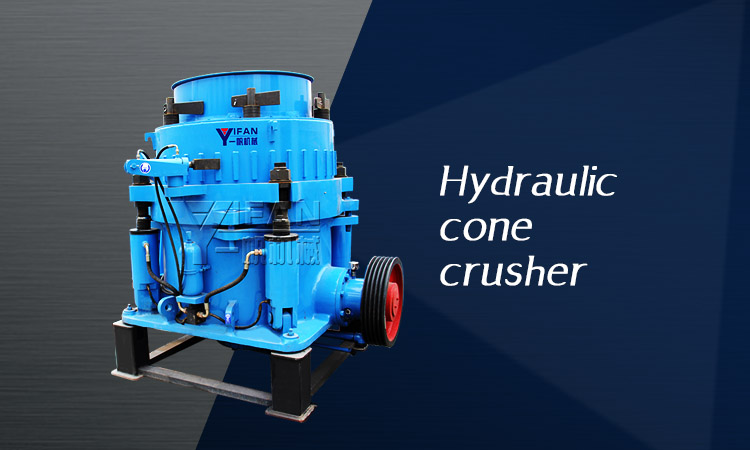 With the wide range of cone crusher applications, the use of the process with the emergence of some problems,Yifan machinery answers these questions for everyone today.
Some customers always ask why cone crusher often vibration problems,resulting in this phenomenon for many reasons, such as: spring tightness is not enough to feed uneven, or a lot of feed and moisture, the discharge port will cause blocking material. These causes vibration of the cone crusher.
Cone crusher in the crushing of ore will appear when the tear sound, this is because when the ore appears in non-broken objects, the spring of crusher plays a protective role, made of spring support ring, adjust the ring up lift and compress the spring.Increased discharge gap so that non-broken material discharged through the discharge port,when the crusher will be issued a severe impact sound, support sleeve jump, and then work properly, but in the work if iron too frequently or Large bite, it will cause spring failure, resulting in mechanical damage.
On the cone crusher oil pressure increases at the same time the oil temperature is also high, mainly because the broken oil lubrication system, the oil pipe is blocked, there will be oil pressure increases at the same time oil temperature will be broken, this is also the case when the internal oil circuit is blocked.
Yifan machinery with professional technical team and first-class service for customers to create a leading domestic and foreign products,and to help customers solve all problems,always regards customer needs as the center and serve the interests of customers.