Generally, the working procedures of sand making production line are mainly as follows: crushing raw materials with jaw crusher, impact crusher or cone crusher; delivering the crushed materials with belt conveyor to sand maker; then sieving the processed materials with vibrating screen. Materials with size greater than 5mm will be returned to impact crusher for secondary crushing, and in this way a closed cycle is formed. Materials with size smaller than 5mm will be rinsed by sand washer and then delivered by belt conveyor to end product stacking.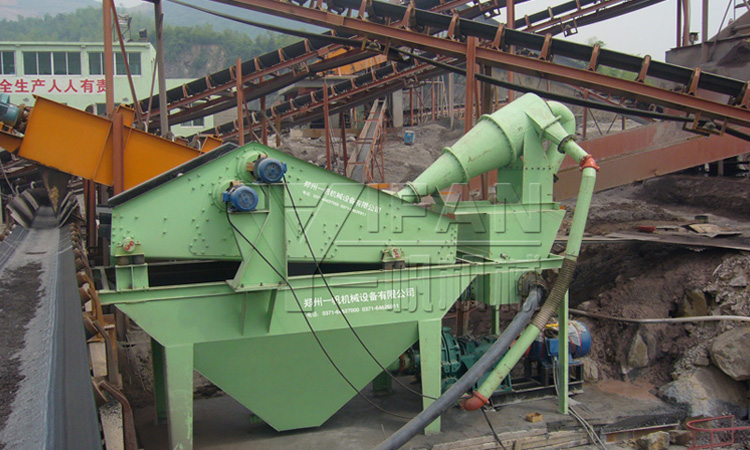 Then the problem comes in the washing process, since sand can run off with water easily, especially the fine sand. As we all know, in order to use local materials conveniently, sand making factories are usually built at the riverside. Therefore, the regurgitation of washed water not only pollutes the environment, but also wastes a large number of fine sand. In order to solve this problem, YIFAN Machinery researched and developed fine sand collecting system successfully. In the following, we will introduce its advantages briefly.
1. It can reduce the loss quantity of fine sand effectively and control it between 5-10%.
2. Polyurethane embedded in swirler can prolong the service life of the whole equipment. In addition, it can complete slurry concentrating and liquid clarification smoothly.
3. Fine sand collecting system can recycle 85% fine materials from the total emission. Both its technical and economic advantages are incomparable.
4. Collecting fine materials sufficiently can reduce the working quantity of setting pond and lower its cleaning cost.
5. Fine sand collecting system can reduce the natural stacking time of fine materials. With its help, finished materials can be transferred to market directly.
To sum up, fine sand collecting system can solve material loss problem effectively and make great economic benefits for manufacturers.